What is
SmartOffice™

?

SmartOffice™ is a cloud-based video monitoring system that makes the adoption of network video security solutions easy. With SmartOffice™, you can connect to your business wherever you go. Using the Microsoft Windows Azure cloud-computing platform, SmartOffice™ eliminates the need for on-site servers. As a result, installation time is reduced and you can begin monitoring your premises quickly.
How
SmartOffice™

works

Using video surveillance equipment such as IP (Internet Protocol) cameras or analog cameras, you can record video to your video unit or to the SmartOffice™ cloud. If recording on your video unit, the video is recorded continuously; if recording to the SmartOffice™ cloud, you can choose to record video either continuously or only when motion is detected. From your laptop, tablet, or smartphone, you can then watch live and recorded video that is safely stored in the cloud.

The following diagram illustrates how SmartOffice™ works to keep you connected to your business wherever you go.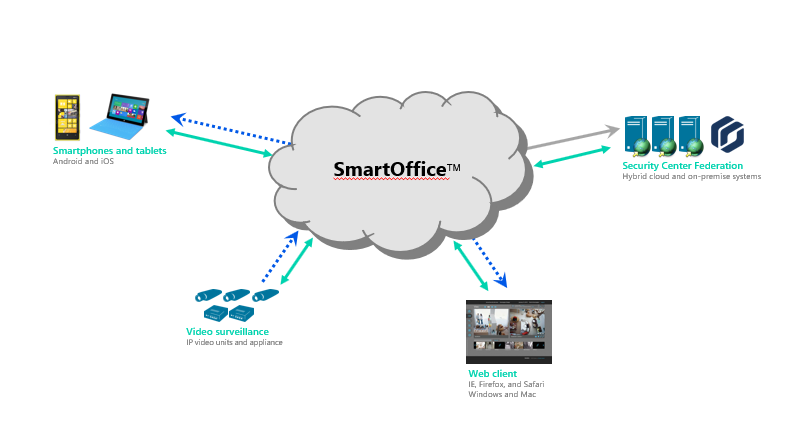 Legend

Encrypted video stream (TCP)

Encrypted communication 128-256 bit SSL or TLS (RSA or AES) and password authentication